---
Page content
hub27: Berlin's most exciting multi-purpose venue
Extraordinary rooms for impressive events, this is Berlin! With the hub27, Messe Berlin has built an impressive multifunctional hall that resembles an interior design miracle. The 15.000 square meters hall is unmistakable, with variable event areas, the most modern technology, spacious rooms, a generous roof terrace and direct connection transitions to the adjoining exhibition halls 1 and 25.
Experience the Smart Country Convention in Berlin's most exciting location directly under Funkturm. We offer an extensive event program with top-class conference formats, a curated Expo, practice-oriented trainings and workshops and plenty of space for matchmaking and networking. Look forward to three inspiring days in Berlin!
Use our condensed hall overview to get a quick and easy overview and to find your way around the exhibition grounds.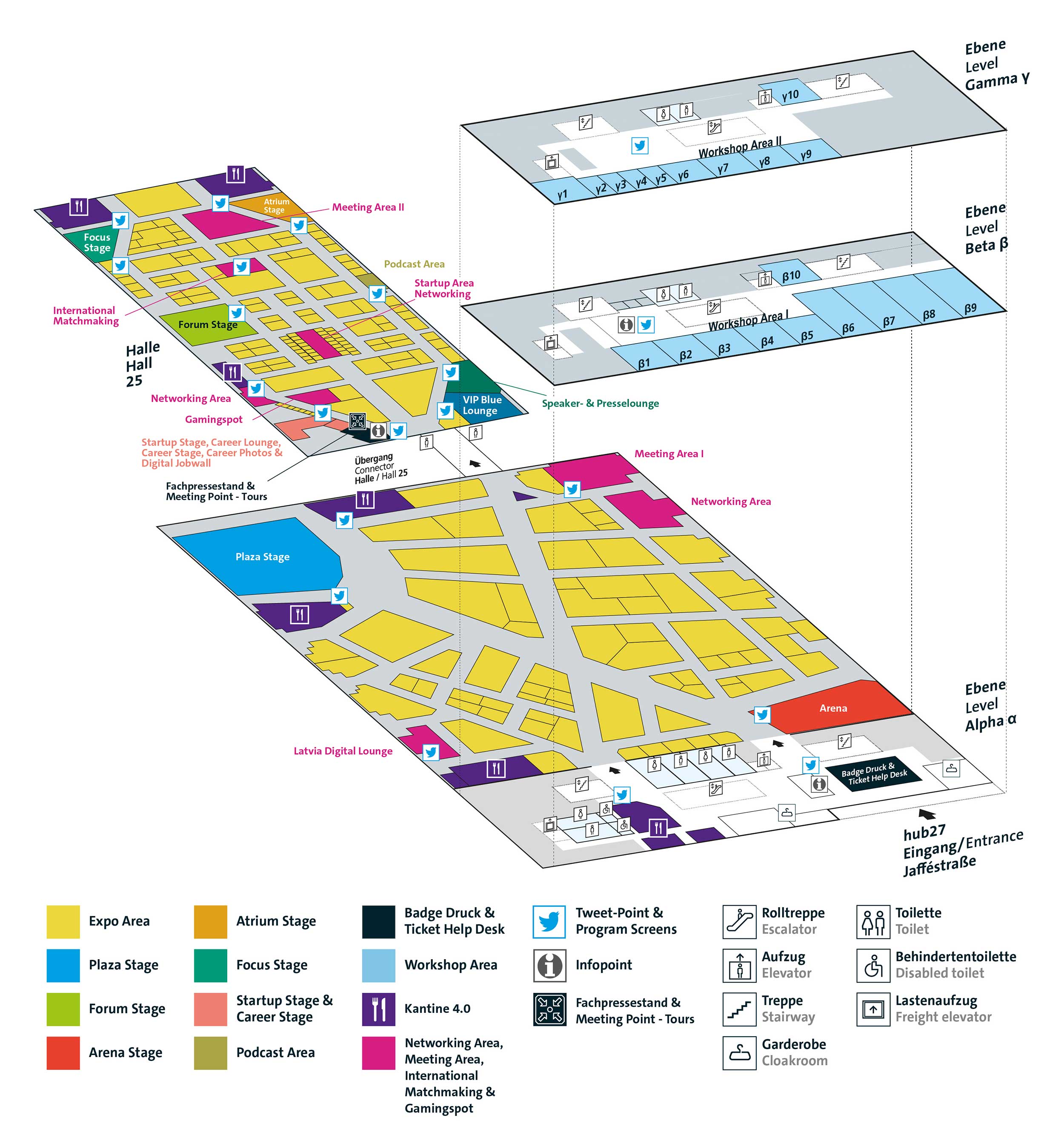 The Expo of Smart Country Convention makes digital solutions and applications tangible for visitors – digitization to touch. Look forward to practical insights from experts for experts: This is where you meet market leaders, newcomers, pioneers, experts and innovators from the public sector and the digital economy. This is where you get to know the most important companies and their innovative solutions. This is where you will find the right answers to your current challenges. This is where you have a platform to experience networking, exchange and business.
The opening hours: Your contact point for information and interaction
The Smart Country Convention is dedicated to the complex and trendsetting topics of the future, which are increasingly changing the processes and structures of federal, state and local authorities. This is where digitization, technology, infrastructure and data protection have a permanent place. This is where experts and newcomers determine the digital agenda. This is where top exhibitors present the latest market trends. This is where visitors make valuable first-hand contacts.
Smart Country Convention 2023
November 07 – 09, 2023
Opening hours
doors open for visitors: 9.00 am
doors open for exhibitors: 08.00 am
Program
November 07: 9.30 am – 10.00 pm
November 08: 9.30 am – 09.00 pm
November 09: 9.30 am – 06.00 pm
Location
hub27 Berlin, Berlin Exhibition Grounds
Jafféstraße 2, Gate 25, 14055 Berlin
Place
The hub27 is located in the southern part of Berlin Exhibition Grounds on Jafféstraße, directly next to CityCube Berlin.
Download site plan (PDF, 807.2 kB)
Parkig spaces
A limited number of parking spaces are available at Berlin Exhibition Grounds.
Entry
Tickets for the SCCON23 are available in the online ticket shop.
Organizer
Digital Association Bitkom and Messe Berlin
15.10. – 17.10.2024
30.09. – 02.10.2025
SCCON TEAM
You have any questions? We will be happy to assist you!
T +49 30 3038 2300
This is how you come to us!
How to get here? Here you will find practical information to help you get to the fair quickly and easily, wether you're travelling by rail, air or car.
hub27 | Berlin Exhibition Grounds
Jafféstrasse 2, Gate 25
14055 Berlin