---
Page content
In the right place at the right time
When do you have to arrive, where precisely should you arrive – and what do you need to know when you get there? Here is where you can find all the important times, locations and service & ticket information about access to the Exhibition Grounds.
Access & Location
hub27 Berlin, Berlin Exhibition Grounds
Jafféstraße 2, Gate 25, 14055 Berlin
GPS coordinates
52°30'11.2"N 13°16'03.9"E
Access to the exhibition grounds
In order to ensure that setting up and dismantling traffic on the exhibition grounds run as smoothly as possible, please comply with all access and deposit rules stated in the traffic guide.
Setting up and dismantling passes
All persons must register free of charge in advance for the set-up and dismantling periods via our ticketshop.
Setting up and dismantling times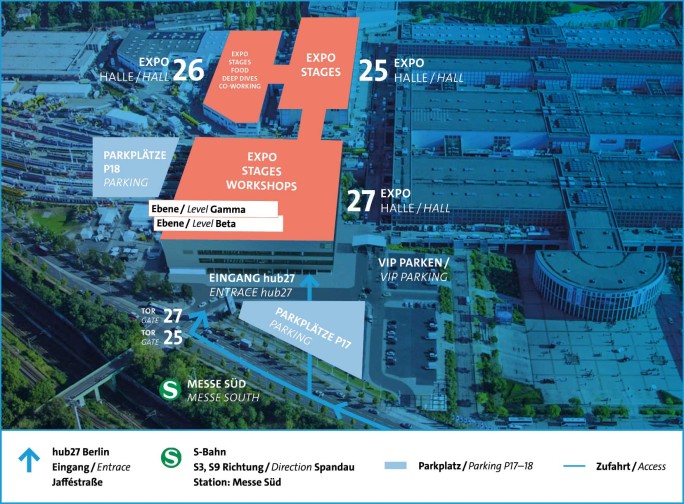 Stand construction
November 04, 2023, from 07.00 am

End of stand construction
November 06, 2023, until 03.00 pm
From 03.00 pm onwards decorative stand construction only!


Stand dismantling
November 09, 2023, from 06.00 pm

End of stand dismantling
November 12, 2023, until 11.00 pm

Booking portal VisiFair for exhibitors and suppliers
You would like to book a loading zone for SCCON23?
When it comes to setting up your trade show booth, every minute counts. To ensure that all materials, exhibits, etc. are ready when you need them, we offer you a new digital service. VisiFair, our space management system, provides bookable loading zones at the desired time for faster, efficient delivery and collection - reliably at the desired location.
With our new VisiFair system at Messe Berlin, you can plan stress-free and on schedule. Due to the time-distributed time windows of the loading zones, congestion situations at our gates are significantly reduced, saving you valuable time during set-up and dismantling.
SCCON TEAM
You have any questions? We will be happy to assist you!
T +49 30 3038 2300
hub27 | Berlin Exhibition Grounds
Jafféstrasse 2, Gate 25
14055 Berlin