---
Page content
Your smart guide on the go
With the SCCON App you are constantly up to date - even without an internet connection. Download the app before your visit to the trade fair and prepare yourself perfectly for the Smart Country Convention. During the event, you will find everything you need for your orientation in the app - from the exhibitor directory to hall plans, from the conference program to service information. The app is free of charge and will be available for download for iPhone and Android in German and English.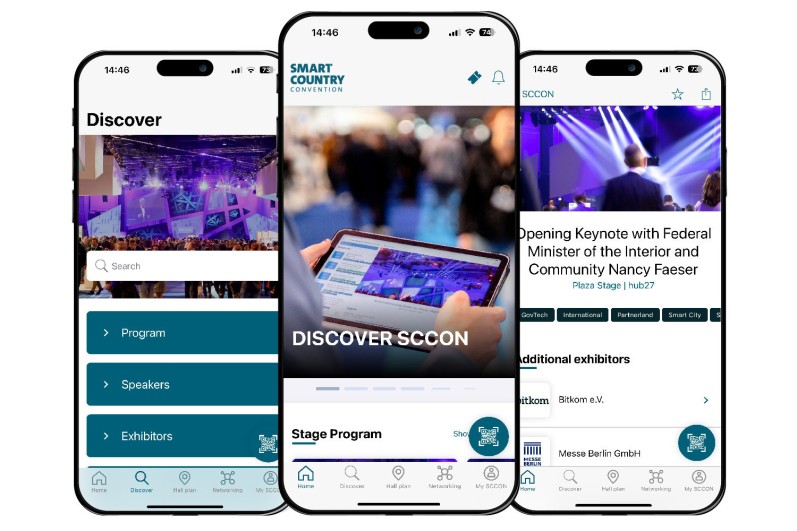 3 STEPS TO YOUR VERY OWN MOBILE SMART COUNTRY CONVENTION:
1. Download the Smart Country Convention App from the App Store or Google Play Store.
2. Register or log in with your SCCON Online Platform details to be able to use all functions. Limited use of the app is available without registration.
3. Look for exhibitors, use the interactive hall plan, select your favorite exhibitors and events and get in direct contact with exhibitors and other visitors.
✓ Exhibitor list with filter function
✓ Product directory
✓ Current and international job offers
✓ Event program
✓ List of speakers
✓ Bookmark and note function
✓ Interactive multifloor map
✓ Important information around the event
✓ Seamless synchronization of favorites and contacts between the platform and the app
✓ Networking-QR-Code generator
✓ QR-Code reader to exchange contact details during the fair
✓ Networking tool
✓ Ticketwallet
✓ SCCON selfies with the selfie camera
✓ With "My SCCON" you have all your favorites at a glance: exhibitors, products, jobs, events, speakers and contacts
✓ Available in English and German
✓ Availalbe for iPhone and Android
OUR TIPS
✓ Create lists of favorites directly in the app or log in with your profile from the SCCON Online Platform and have your favorites, contacts and meeting schedule displayed in the SCCON App as well.
✓ A QR code for networking is generated from your personal profile in the SCCON App. This can be scanned by other app users on site at the trade fair, automatically creating a link between the networking profiles in the app, which can be found under Contacts..
✓ Take your SCCON selfie with the selfie camera and share it on your social media accounts! Our hashtag: #SCCON23
SUPPORT TEAM
You have any questions concerning the SCCON App or SCCON Online Platform?
We will be happy to assist you!
T +49 30 3038 2500
Subscribe to our newsletter.
We will keep you up to date with developments of the Smart Country Convention.