---
Page content
The leading event for the digital state and public services.
Three days of Congress, Expo, Workshops & Networking.

07 – 09 November 2023
hub27 | Berlin Exhibition Grounds
You'll want to be a part of this
Look forward to three days full of expertise from practitioners for practitioners: Experience exciting keynotes, inspiring panels, successful best practices and use numerous touchpoints for exchange, new knowledge and insights to master the challenges and opportunities of digitization.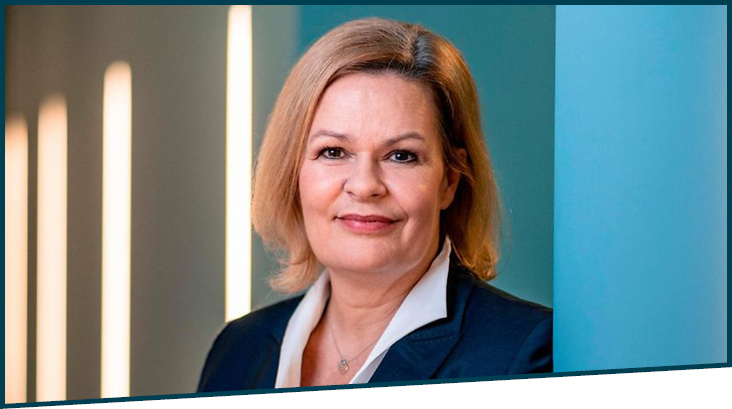 "We want a digitalised state that consistently puts people's needs first. We want to make our country more modern, people-oriented and digitalised. We look forward to this opportunity to talk about efficient, digitalised local government and exchange views and learn from each other at the Smart County Convention."
As a driving force for the future of digital administration and for equal digital living and working conditions in cities and rural areas, the Smart Country Convention (in short: SCCON) is a must for all stakeholders who actively push the digital transformation.
Are you interested in advancing the digitization of our cities and municipalities too? Join us in shaping the future!
Enjoy the best moments of #SCCON22 and look forward to this November in Berlin.
Our program. Your learnings.
Learn how digitization succeeds in cities and municipalities, make valuable new contacts and get ideas and inspiration for your work - at the congress, the expo and the workshops. We invite you to join in!
Our key speakers. YOUR INSPIRATION.
Renowned speakers from politics, science, digital economy and administration will discuss sustainable technologies and approaches in public administration, urban planning and public services.
Key debate topics for the 2023 edition
Digital administration and smart urban development concepts are among the most pressing future issues of our time.
Our diverse range of topics therefore deals not only with digital citizen services or cyber security, but also with networking technologies and the latest tech trends.


Dr. Markus Richter
Secretary of State and Commissioner of the federal government for information technology
Federal Ministry of the Interior, Building and Community
State Secretary, Federal Ministry of the Interior, Building and the Homeland, and Federal Government Commissioner for Information Technology
Dr. Markus Richter was born in Münster/Westphalia in 1976. He has two children.
After studying law at the Westphalian Wilhelms University of Münster, he received his doctorate in 2003 and completed his legal clerkship at the Higher Regional Court of Hamm with the 2nd state law examination one year later.
From 2005 Dr. Markus Richter held several positions at the Federal Office for Migration and Refugees. There he is involved in human resources, organisation, the office of the President and fundamental issues of integration and migration. In 2014 he will take over as group leader in the IT department of the Federal Office of Administration. From 2015, he will again work at the Federal Office for Migration and Refugees as Head of the Infrastructure and IT Department and will become Vice-President of the authority from 2018.
Since 1 May 2020 Dr. Markus Richter has been State Secretary at the Federal Ministry of the Interior, Building and Homeland Affairs and Federal Government Commissioner for Information Technology.
Anne Katrin Bohle
Secretary of State
Federal Ministry of the Interior, Building and Community
Anne Katrin Bohle was appointed State Secretary at the German Federal Ministry of the Interior, Building and Community in March 2019. Before her appointment, she served as Director-General at the Ministry for Regional Identity, Communities and Local Government, Building and Gender Equality of North Rhine-Westphalia. During this period she also chaired the Committee for Building, Urban Development and Housing of the Conference of German Building Ministers. Prior to that she worked as Head of the Minister's Office at the Ministry of Building and Transport of North Rhine-Westphalia. She started her career at the Employment Office, heading several departments and chairing executive boards of the Employment Agencies in North Rhine-Westphalia and in Brandenburg. She studied law and political science at the Universities of Gießen, Münster and Bonn.
Thierry Breton
Commissioner for the Internal Market

Engineer, with a Supélec qualification in computer science, Thierry Breton begins his career as an entrepreneur in the new technologies sector. In 1981, he set up in the United States Forma Systems, an SME which he heads for 5 years. At the same time it publishes a number of science-fiction novels, including Softwar, sold at 2 million copies and translated into a dozen or so languages.
In France, he designs and then designs the Futuroscope, the first science and technology tourism park, between 1986 and 1990. In parallel, he was also elected regional councillor and then Vice-President of Poitou-Charentes from 1986 to 1992.
He runs a number of companies in the market for goods, as well as in the IT sector and new technologies. He was Director of the Strategy and Development, then Managing Director of Bull between 1993 and 1997. He then takes the lead of Thomson Multimedia, a global electronics company. In 2002, he was appointed to the head of the multinational operator France Télécom.
In 2005 he was appointed Minister for Economic Affairs, Finance and Industry of France, which he held until 2007.
Following his ministerial office, he teaches the governance at the Harvard Business School.
In 2009, he became CEO of Atos, a technology and digital service company until 2019.
He chairs ANRT, the National Association for Research and Technology until 2019. He is a member of the Technology Academy.
In 2019 he became the European Commissioner for the Internal Market. It is responsible for industry, services, digital, defence and space, as well as tourism and audiovisual.
Li Andersson
Minister of Education
Ministry of Education and Culture, Finland
Ms. Li Andersson was appointed Minister of Education in Finland in June 2019. She is the chairperson of the Left Alliance party, former chair of her party's youth organization and current member of the City Council of Turku. She is serving her second term as a Member of Parliament. She was elected in Parliament in 2015. She was born 1987 in Turku.
Before and during her political career, Ms. Andersson has had numerous responsibilities in civil society organisations and trade unions. She has been a steady advocate for human rights, equality, civil society, as well as social and ecological sustainability.
She holds a Bachelor degree in Social Sciences (international law) from Åbo Akademi University, which is the only exclusively Swedish language multi-faculty university in Finland.
Dorothee Bär
Federal Government Commissioner for Digitization

Dorothee Bär was born in Bamberg in 1978. She holds a degree in political science and has been a member of the German Bundestag since 2002. From 2009 to 2013, she was spokesperson of the CDU/CSU parliamentary group for family, senior citizens, women and youth and deputy secretary general of the CSU. From 2013 to 2018 she was Parliamentary State Secretary at the Federal Minister of Transport and Digital Infrastructure. Since 2018 Dorothee Bär has been Minister of State to the Federal Chancellor and the Federal Government Commissioner for Digitisation. Dorothee Bär has been Deputy Chairwoman of the CSU since 2017, Chairwoman of the CSU Network Council since 2010 and Chairwoman of CSUnet since 2011.
Heiko Maas
Federal Minister for Foreign Affairs
Auswärtiges Amt
• Born in Saarlouis on 19 September 1966
• 1987: University entrance qualification
• 1988: Employee at Ford plant in Saarlouis
• 1989 - 1993: Read law at the University of Saarland, First state law examination
• 1994-1996 and 1999-2013: Member of the Saarland Landtag
• 1996: Second state law examination
• 1996 - 1998: State Secretary at the Ministry of Environment, Energy and Transport in Saarland
• 1998 - 1999: Minister of Environment, Energy and Transport in Saarland
• 1999 - 2012: Chairman of the SPD parliamentary group in Saarland
• 2000 - 2018: Chairman of the SPD Saar
• 2012 - 2013: Minister of Economics, Labour, Energy and Transport and Deputy Minister-President of Saarland
• 2013 - 2018: Federal Minister of Justice and Consumer Protection
• since 14.03.2018: Federal Minister for Foreign Affairs