---
Page content
Where your goals are achieved!
Getting to Smart Country Convention: excellent transportation links make reaching the hub27 Berlin easy and convenient. In addition, the city of Berlin has a hassle-free, well-developed local transport network. Plan your trip to Smart Country Convention 2023 today!
In the right place at the right time
Duration of the event
November 07 – 09, 2023
Opening hours
doors open for visitors: 9.00 am
doors open for exhibitors: 08.00 am
Program
November 07: 9.30 am – 10.00 pm
November 08: 9.30 am – 09.00 pm
November 09: 9.30 am – 06.00 pm
Access & Location
Entrance: hub27 Berlin, Berlin Exhibition Grounds,
Jafféstraße 2, Gate 25, 14055 Berlin
GPS: 52°30'11.2"N 13°16'03.9"E
Public transport: Messe Süd, S-Bahn lines S9 or S3, stop Messe Süd
Place: The hub27 is located in the southern part of Messegelände Berlin on Jafféstraße, directly next to CityCube Berlin.
Parkig spaces: A limited number of parking spaces are available at Messegelände Berlin.
Information on a barrier-free arrival in Berlin can be found here.
This is how you come to us!
How to get here? Here you will find practical information to help you get to the fair quickly and easily, wether you're travelling by rail, air or car.
Arrive relaxed - travel sustainably.
Our tip: With the DB event ticket you can travel to us easily, comfortably and sustainably. It will be possible to book the discounted rate at this site from May 2023. Benefit from our attractive cooperation offers!
We have reserved a limited number of rooms in centrally located hotels at very attractive rates with easy access to the public transportation system. Hotel rooms in the Smart Country Convention allotment are from April 2023 available for booking. Reservations can be made for the period from November 07- 08, 2023.
All rooms will be assigned on a first come, first serve basis. It is recommended to make your hotel reservation well in advance, as availability cannot be guaranteed. If you are travelling by public transport, please note when planning your trip that the entrance to the Smart Country Convention is best reached via the "Messe Süd" S-Bahn station.

Our partners would love to help you
Grand Central. It lives up to its name. The pillars upon which the AMANO Group's largest hotel is built. With views over the colossal glass and steel structure that is Berlin's central station, an icon of metropolitan travel. Although you might actually end up with itchy feet, these 250 purist, modern rooms over six floors act like a magnet, drawing you back in.
Distance from the hotel:
10 km to the hub27 Berlin
23,6 km to Schönefeld Airport
Single Room: 136,00 €
Double Room: 146,00 €
The prices are per person/ per night and include breakfast and VAT
Cancellations are free of charge until 7 days before arrival
Heidestraße 62, 10557 Berlin
T +49 30 400 300 0
grandcentral@amanogroup.de
www.amanogroup.de
You might find this also interesting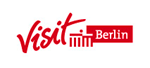 Book your Berlin stay with visitBerlin, the local specialists in all things Berlin. Whether you need a business hotel close to your meeting location or an affordable, but stylish vacation home, whether in the middle of the city, in a neighbourhood with a trendy nightlife scene or some place a bit removed from the hustle and bustle: we not only find the accommodation that is right for your needs but also give you up-to-date information, recommendations and insider tips for a successful stay in Berlin.
With over 300,000 hotels in all categories in more than 190 countries, HRS offers a huge range of hotels worldwide for both business and private travellers, allowing all customers to book their preferred hotel room and category quickly and easily. Detailed descriptions of the hotels, informative photos and videos and around five million user evaluations make your hotel search easy. Another advantage offered to users is the HRS price promise with money-back guarantee. If you have booked through HRS and find a cheaper hotel online, we will refund you the difference. If you travel for business, you also have the opportunity to register for the HRS business rate. Business travellers can save up to 30 percent and book cheap hotel rooms in this way.
SCCON TEAM
You have any questions? We will be happy to assist you!
T +49 30 3038 2300
Subscribe to our newsletter.
We will keep you up to date with developments of the Smart Country Convention.