---
Page content
Open Source and Open Standards: How FIWARE Foundation digitalise cities in Germany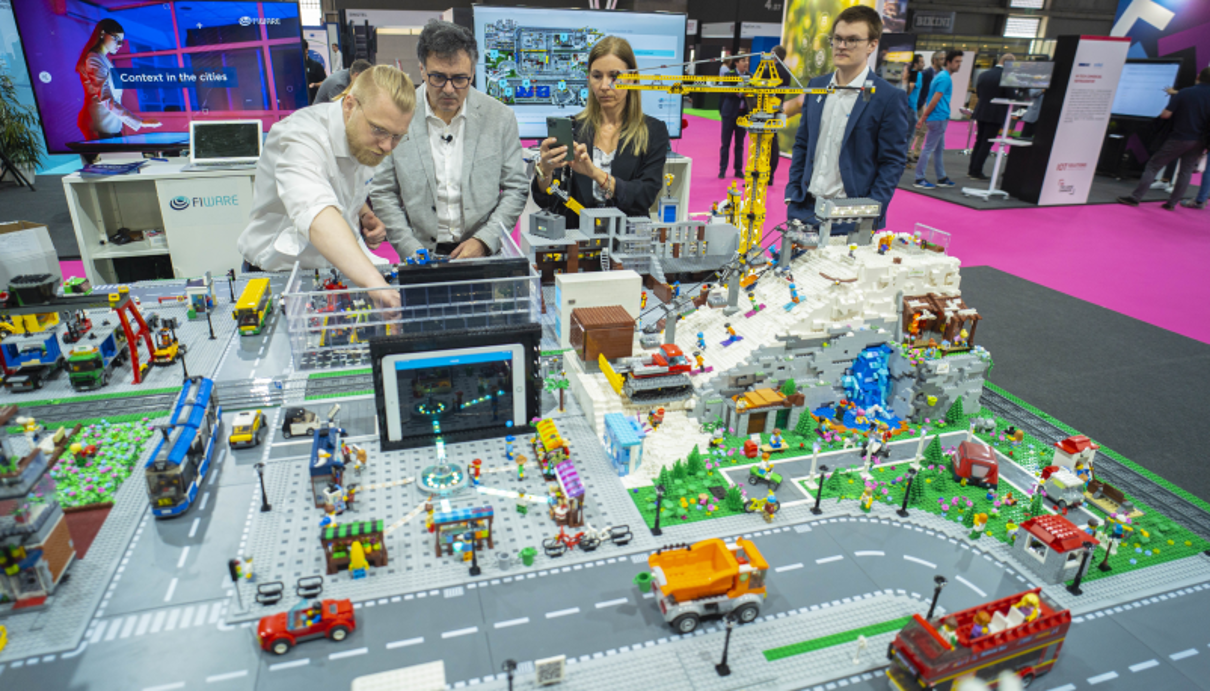 that encourages the adoption of open standards using Open Source technologies for the development of smart solutions on a global basis - will be present at Smart Country Convention 2022 (SCCON) in Berlin. SCCON is the leading trade show and meeting point in Germany that focuses on innovation of digital solutions for public administrations and public services in municipalities, cities, regions, and the federal government. Today, FIWARE Foundation plays a significant role in the German and German-speaking market for open source technologies and solutions, offering a powerful network of Innovations Hubs (iHubs), bringing future trends and solutions to meet digitalisation challenges, and to support cities in their journey to become smart(er) and successful in the implementation of their digital agenda.
Open Source for digital cities is key
FIWARE Foundation brings a curated framework of Open Source software platform components which can be assembled like building bricks and combined with third-party components to build platforms that support the development of smart solutions in a faster, easier and less costly manner. The main and only mandatory component of any "Powered by FIWARE" solution or platform is the FIWARE Context Broker Generic Enabler, guaranteeing the cornerstone function required in any smart solution: the tool to manage context information, to perform right-time updates, to bring access to context, and much more.
Acknowledging the challenges cities have been facing, and will face even stronger in the future, FIWARE is increasingly playing a role in their solution agenda, combining the expertise of context data management with inter-cities' expertise and collaborations with experienced partners and specialists. Meanwhile, FIWARE has become the de-facto standard for Smart Cities, and as such, it helps cities' decision makers and system integrators with the incorporation of standards for stronger interoperability, faster time-to-market, security of investment, scalability and replicability (portability). As for today, more than 300 cities from more than 30 countries around the world are using FIWARE technologies to make their cities, territories and regions more sustainable and smarter. Germany is not the strongest in digitalization among the EU countries yet, but it has great potential and a huge amount of already implemented programs and solutions. Like for example, cities and regions such as Bad Hersfeld, Berlin, Darmstadt, Dormagen, Heidelberg, Herne, Kiel, Langenfeld, Lübeck, Moers, Monheim am Rhein, Paderborn, 5 für Südwestfalen, or Wolfsburg are already using FIWARE-based solutions.
From Open Source and Open Standards to Digital Twins
Open Source technology enables actors in the digital transformation space to foster transformation throughout a variety of interconnected domains. For the visual demonstration on how Open Source technologies can be integrated in Smart Cities, FIWARE Foundation is presenting at SCCON The Smart World by FIWARE built by LegoⓇ bricks - surly one of the world's biggest demonstrators with FIWARE technologies inside, showcasing dozens of use cases based on FIWARE-driven solutions. One highlight are the newly integrated Digital Twin solutions connecting real-world data (coming from modules built by LEGO bricks) with Digital Twins data providing a cohesive single source of truth across multiple (demo) platforms. On a large scale, FIWARE technology additionally enables the creation and management of Data Spaces.
Combining forces: empowering the German community, meeting the city's needs
SCCON will be the stage for the very first German-speaking network meeting, taking place October 19, under the same SCCON roof. Many countries already have a vivid FIWARE community, users groups and regular get-togethers, amongst them, Austria and the city of Vienna (where the 9th FIWARE Global Summit will be held, June 12-13, 2023). These network meetings serve to learn from each other, share best-practises, concrete use cases and developments. Now, this concept is coming to all German-speaking countries, including Germany and Switzerland.
October 19th, 15.00 - 18.00, (Room B4) FIWARE Foundation is opening the doors to all German speaking cities, users and FIWARE-interested people to discuss about "Der sichere Weg: mit Open Source zur Smart City".
The main aim of the first network event is to gather and involve key players of the German-speaking markets to then build on a self-sustainable, growing and impactful community of FIWARE users and interested peers. FIWARE Team has an appealing line-up of speakers, an open discussion round and a foundation Cin-Cin at the end of the program.
In the frame of this event, special light will be shed on two specific and successful use cases developed in the TOKEN project, referring to the use of Blockchain technology.
FIWARE will attend SCCON together with up to 8 co-exhibitors, the whole management board, our specialists for FIWARE Marketplace, Smart Data Models, the team around the Smart World by FIWARE, and an awesome selection of FIWARE Technical Experts.
Save your ticket to SCCON now!
Only a few more steps and you'll be there!