---
Page content
Studying the administrative management of tomorrow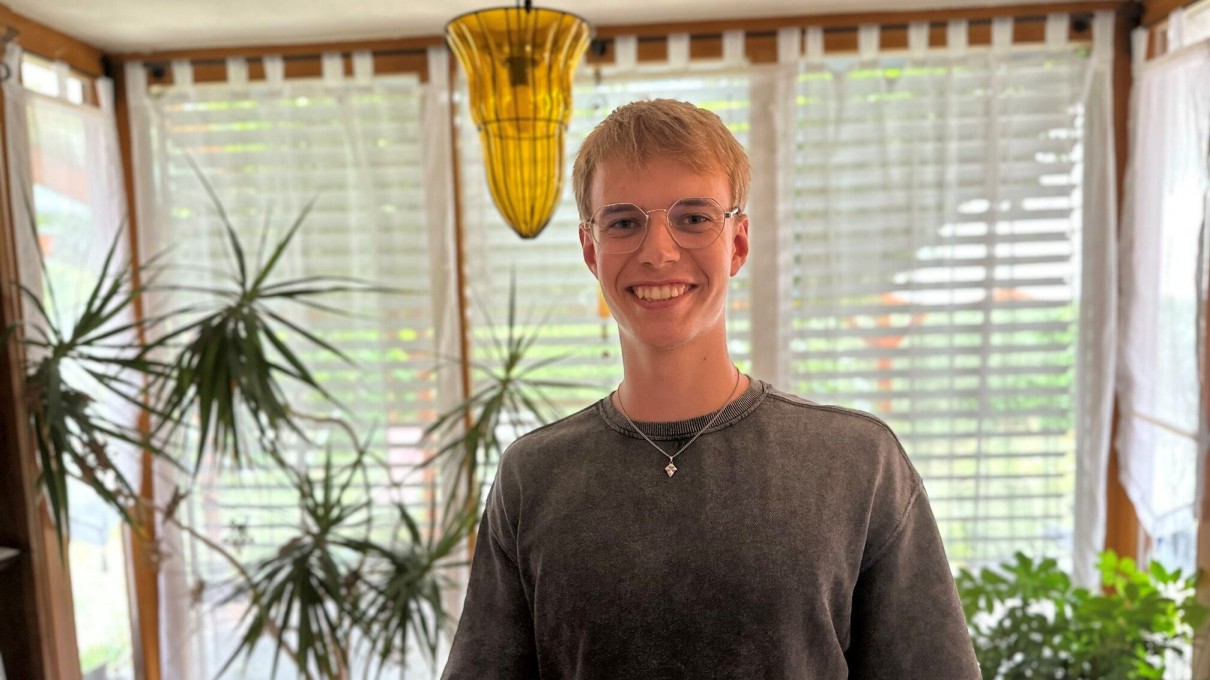 Simon is 21 years old and is in his 4th semester of studying Digital Administrative Management at Kehl University. At school, he never thought about joining the civil service: " I found the advertisement for the study program by chance, applied in Wiesloch and didn't regret it." The study program is intended to prepare Simon and the other students for the "new" municipal practice: "Specifically, we learn the strategic management of digital projects, but also their concrete implementation in the form of programming. We learn what external factors municipalities are exposed to as a result of the digital transformation and how they have to change internally to maintain trust. How good citizen participation works, how municipalities should communicate in an integrated way, how to lead based on trust, how organizations work, how to change them from culture to structure, how to act economically in the process and which legal frameworks apply."
From theoretical studies to practice
To ensure that Simon and his fellow students become experts in more than just theory, the students spend a month each semester in their practice municipality to complete a case study. In Simon's case, that's the city of Wiesloch in Baden-Württemberg: "Together with the Office of IT Service and Digitalization, I was able to set up the entry point to a network with municipal sensors and actuators. Capture the organizational culture and conduct citizen participation to bring the legitimacy of digital topics to the municipal council, communicate the presence within the administration to the outside world and thus fill the digitization strategy with content. In most cases, the study has shown me which connections exist within the organization and the entire municipality, which actors in it are important, for what, and which screws can be turned to make the organization a bit more 'digitally ready'."
Would it be better to digitalize the administration from the inside or from the outside?
After six semesters, Simon graduates with a Bachelor of Arts degree in digital administrative management. Whether he would then prefer to work within the administration or bring it forward digitally from the outside, Simon does not yet know: "My primary goal is to actually change the administration so that it does not move further away from the digital reality of citizens' lives. Whether that is best done from the inside or from the outside remains to be seen. At the moment, however, I have the feeling that 'from the outside' it is harder to carry people along 'from the inside' and that the actual change will have a more superficial effect as a result. I think we need profound change."
More "toward" rather than "away from" motivation
There are very different answers to the question of why digitalization in Germany is progressing so slowly. Lack of personnel or money are often cited. For Simon, however, the problem lies deeper: There is too much "away from" motivation in municipal organizations: "Away from complaining, away from responsibility, away from doing something wrong. We need more 'towards' motivation. Toward citizen satisfaction. Toward networking. Toward digitalization. To achieve that, we need more people willing to build something and a reduction of legal restrictions. If we continue to maintain our constricting environment, we won't invite these people into the administration and thus damage legitimacy, even though we're trying so hard to do everything right in the process."
That is why Simon also has a clear wish for decisively advancing the digitization of the administration: "I would start by dismantling restrictive laws. Only then can we afford laws like the Online Access Act, which give us visionary goals. In addition, communication between all government agencies must be strengthened. Citizens expect services that come from a single source like Amazon, Apple and the like. So we also need to act as a single unit, to network more closely. To do this, we have to take responsibility for our goal, the legitimacy of the state, and not just for our own task. We need more vision from higher authorities and more cooperation among municipalities. Otherwise, everyone has to continue to do their own little thing."
Smart countries need smart people
Even more information about careers in government and networking opportunities are available at the Smart Country Convention's Career Day on November 9. Young professionals and companies can network in the Career Lounge, job seekers can find out about career opportunities in government and business on the Career Tours, and Career Speed Dating invites you to a 1:1 conversation with the potential boss of tomorrow. All information about the Career Day at #SCCON23 is available here.
Save your ticket to SCCON now!
Only a few more steps and you'll be there!