---
Page content
Guest article: Bochum on its way to becoming a smart city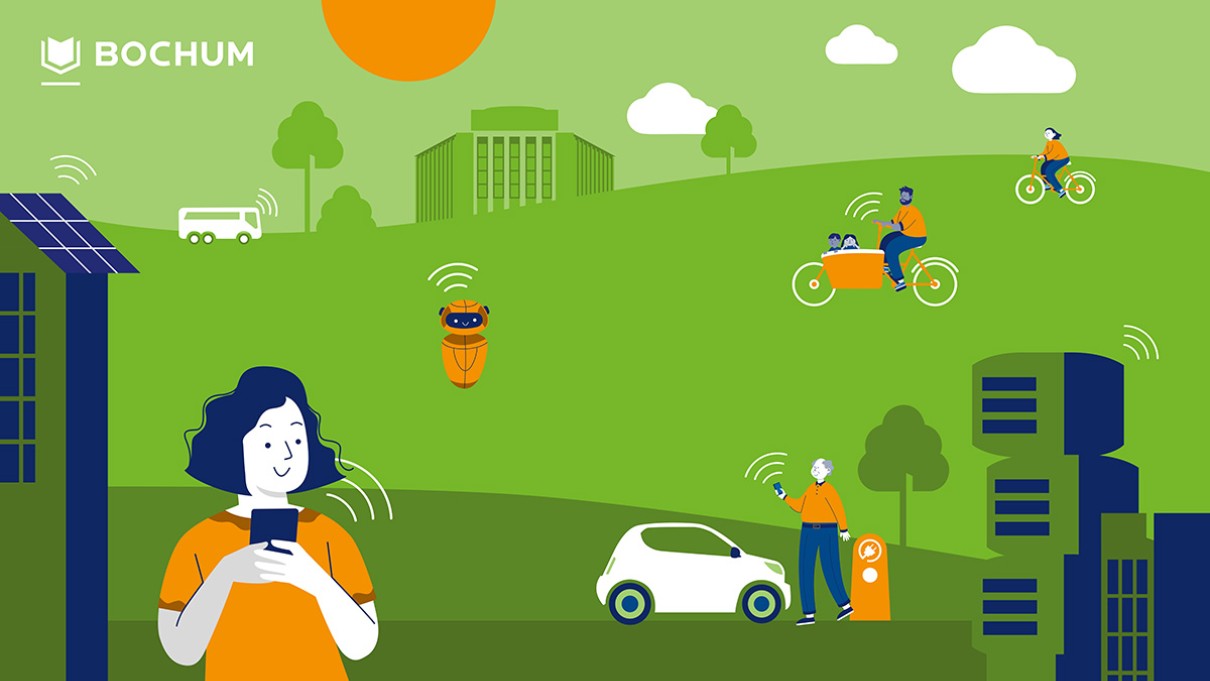 In recent years, the city of knowledge and culture has developed into one of Germany's leading "smart cities." Two rankings in the top 10 of the Bitkom Smart City Index in 2021 and 2022 confirm this. But what makes this major western German city with a population of 371,000 a "smart city" and how was the city inspired to use digital technologies for transformation?
How digitization got on Bochum's agenda
With a strong tradition in education and technology, Bochum is an attractive location for businesses and talent looking to the future. This development is largely determined by the administration: Back in 2017, the city developed the Bochum Strategy 2030 as a compass for positive development in social, economic, demographic and ecological areas. The goal: An even more livable and lovable city with a focus on the value triad of "knowledge-change-we-feel".
In 2020, a Bochum Smart City concept was developed by the city administration and the city's associated companies. The aim: to improve the efficiency, sustainability and quality of life of residents in the city through the use of innovative technologies and data. The concept covers various areas such as energy, mobility, environment, education, health and administration. The active involvement of citizens was also part of the development process.
In the summer of 2021, the funding commitment for the "Model Projects Smart Cities" (MPSC for short) program came from the German Federal Ministry of Housing, Urban Development and Construction. Since the end of 2021, we have been working along our smart city strategy in the two-phase funding program. A digital citizen participation platform, numerous events, diverse applications of modern sensor technology in the context of urban climate monitoring for climate impact adaptation and numerous other projects developed and implemented show: Bochum has long been on its way!
Technologies solve real problems of real people
Digitization is not an end in itself, but is being driven forward for real people and to solve real problems. That is why both technical innovations and measures that improve everyday urban life are part of Smart City Bochum. Examples include:
Smart City Innovation Unit: we have established a unique digital unit. Employees from the companies of the city group subsidiaries work together to make Bochum a little more digital every day.
Smart sensor technology: Using state-of-the-art sensor technology, Bochum collects various climate data for urban climate monitoring, such as soil moisture, water health, temperature or precipitation. These are made available to the city's departments in order to derive recommendations for action. In the future, the data will flow into an open data platform.
Smart data transport: Stadtwerke Bochum has created a LoRaWAN network in Bochum with around 40 gateways. LoRaWAN (Long Range Wide Area Network) enables the energy-efficient and low-cost transport of data. Smart City Bochum is using the network for a variety of sensor projects, among other things.
Smart parking: Throughout the city, cash and contactless payment at municipal parking ticket machines and parking garages via app was introduced in 2020 in cooperation with ParkNow, now EasyPark. Meanwhile, the "Smart Parking" service is digitizing the parking process in Bochum's parking garages. After free activation in a web store, license plate recognition is performed by camera - the barrier lifts automatically when the vehicle enters. Cash and parking tickets are no longer needed.
Smart administration: The implementation of digital citizen services enables citizens to take care of their concerns online. Currently, people in Bochum can handle more than 210 administrative services online.
Smart participation: With an online participation platform, we have created a digital participation option that allows Bochum residents to participate in Bochum's urban development from the comfort of their sofa at home.
Smart building planning: The city administration, the housing industry and a startup company are working together on a platform that allows building planners to check their designs for compliance with the requirements of the state building code and the building inspection ordinance using digital models ("Building Information Models"). The preliminary check is intended to help make approval processes faster and more efficient.
In this context, we are often asked what it takes to launch a successful smart city process. That's why we recommend that other municipalities pay particular attention to the following success factors:
A clear vision and strategic plan: With the Smart City concept, Bochum has a clear vision and long-term strategy for digital urban development. It is important that cities and regions develop a similar vision and strategic plan to support the implementation of smart city initiatives.
Involving citizens: Bochum has involved citizens in the development process from the beginning. Open and transparent communication is important to address their needs and concerns and to promote acceptance of Smart City projects.
Build networks and alliances: Bochum works with public companies and other public stakeholders to enable the implementation of Smart City projects. Successful implementation of Smart City initiatives requires close collaboration and partnership.
People at the core of Smart City Bochum
Smart City projects only make sense if they benefit people. That's why we focus a lot of our communications work on direct communication to get people in Bochum excited about our digital projects. Our series of events "Stadtlabor zu Besuch" (City Lab Visits) works through projects from the areas of smart city and digitization. Whether digital citizen participation, the use of sensor technology in urban climate monitoring for climate impact adaptation, or augmented reality - exchange and trial and error is the essence of the events. Face-to-face discussions with the Smart City Innovation Unit team play an essential role. We are also looking forward to being on the road with an e-vehicle as a "mobile city lab" at public events in the city area from summer 2023.
In doing so, it is crucial for us to take a balanced and comprehensive view of the different perspectives and to have an open dialogue with the people in our city in order to understand their concerns and issues and take them into account in further development. We also want to take our older fellow citizens with us - so we are in constant contact with municipal contact points and have included project ideas such as intergenerational continuing education courses and a "Safety on the Net" prevention program as part of our further developed Smart City concept.
When will Bochum's development into a Smart City be complete?
It is unlikely that the Smart City process in Bochum will ever be fully completed. This is because Smart City is not a static concept, but an ongoing process of adaptation and improvement. Smart City means the meaningful integration of technology and innovation into a city to improve its efficiency, sustainability and quality of life. Since these are constantly changing and challenges and opportunities are constantly emerging, a smart city must continuously evolve to respond to these changes and achieve its goals. We in Bochum, and other cities embarking on the journey to become a Smart City, must be prepared for the process to be long-term and constantly evolving.
Therefore, it is important that cities like Bochum take a long-term and strategic approach to smart city projects that is flexible enough to respond to new technologies and requirements. It is also important that the city considers the needs and perspectives of its citizens and involves them in the process to ensure that Smart City projects actually help improve life in the city.
Overall, Smart City is a continuous process of innovation and adaptation that will never truly conclude.
Save your ticket to SCCON now!
Only a few more steps and you'll be there!