---
Page content
From mobile work to mobile studies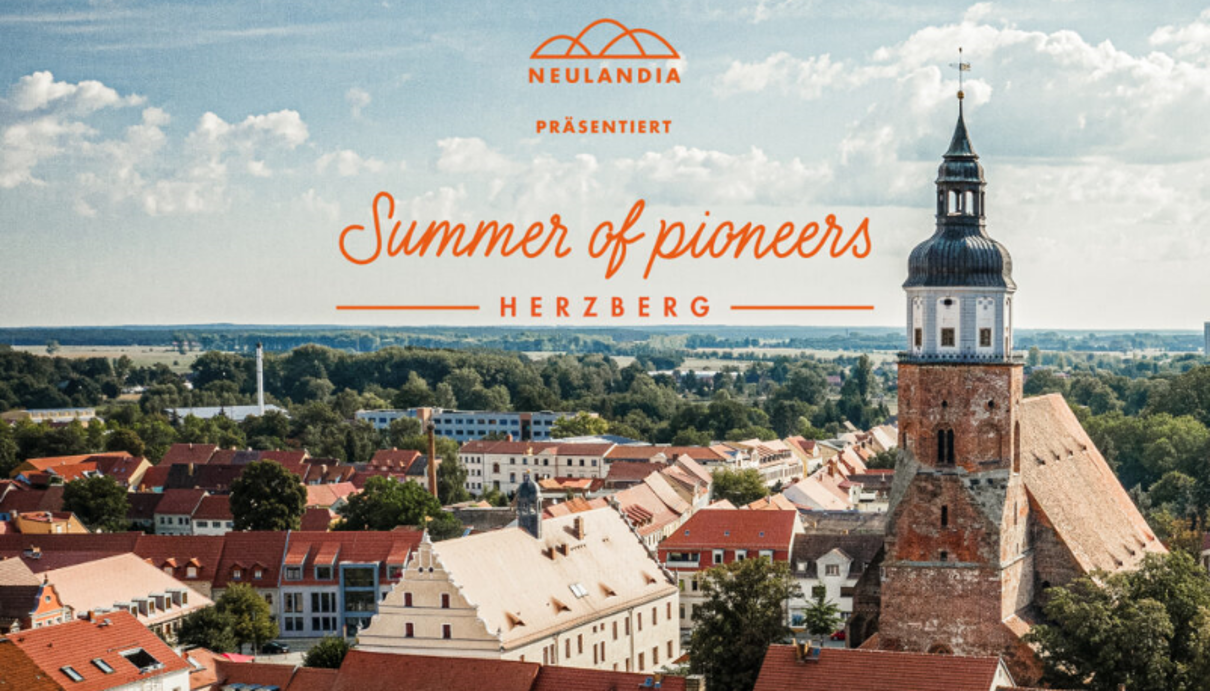 Workspaces no longer exist in a fixed place. Since the pandemic began we know that working from home or any other location is possible, and people no longer need to "put in a shift" at the office. Particularly when these lines become blurred, does studying on the move make sense, especially in a federal Land covering such a wide area? Should science and research expand and extend beyond the fixed places of university learning? Brandenburg is nearly there. In a prefab building in Herzberg (Elster) digital workers are working to make this happen. Here, wedged between Saxony, Saxony-Anhalt and Brandenburg, amazing things are taking place. The Herzberg Pioneers are making digital projects work, bringing the railway station back to life and getting involved in the #zukunftvilla.
The man behind the Summer of Pioneers project is Frederik Fischer, who many years ago in Wittenberge (Prignitz) got this success story from Brandenburg under way. The Summer of Pioneers relocates a community to a rural area for six months, to places where digitalisation still needs a creative helping hand. "Digitalisation in rural areas makes more things happen than Netflix", says Fischer. "It makes sense here." The pioneering work as well as the city of Herzberg (Elster), along with co-campus ideas and together with Mayor Karsten Eule Prütz and his deputy Stephanie Kuntze and Frederik Fischer (Neulandia) will be presented on the Smart Country stand of Brandenburg.
Programme slot on the Brandenburg stage at hub27, Stand 411
Tuesday, 18 Oct. 2022
1.30 – 2.30 p.m.
Introduction and discussion on "From mobile work to mobile studies: the idea of the Co-Campus and Herzberg Pioneers" with Frederik Fischer (Neulandia), Karsten Eule-Prütz and Stephanie Kuntze (Herzberg/Elster)
Smart Country Brandenburg stands for intense networking in the local region and beyond. At the end of 2018, together with Fraunhofer IESE and Bitkom, Wirtschaftsförderung Brandenburg (WFBB) established the Smart Country Brandenburg umbrella organisation in order, with other partners, to create opportunities to advance model projects and best practices, network the driving forces and organise events and participation in trade fairs and conferences.
Save your ticket to SCCON now!
Only a few more steps and you'll be there!