---
Page content
Sovereignty. Sustainability. Resilience.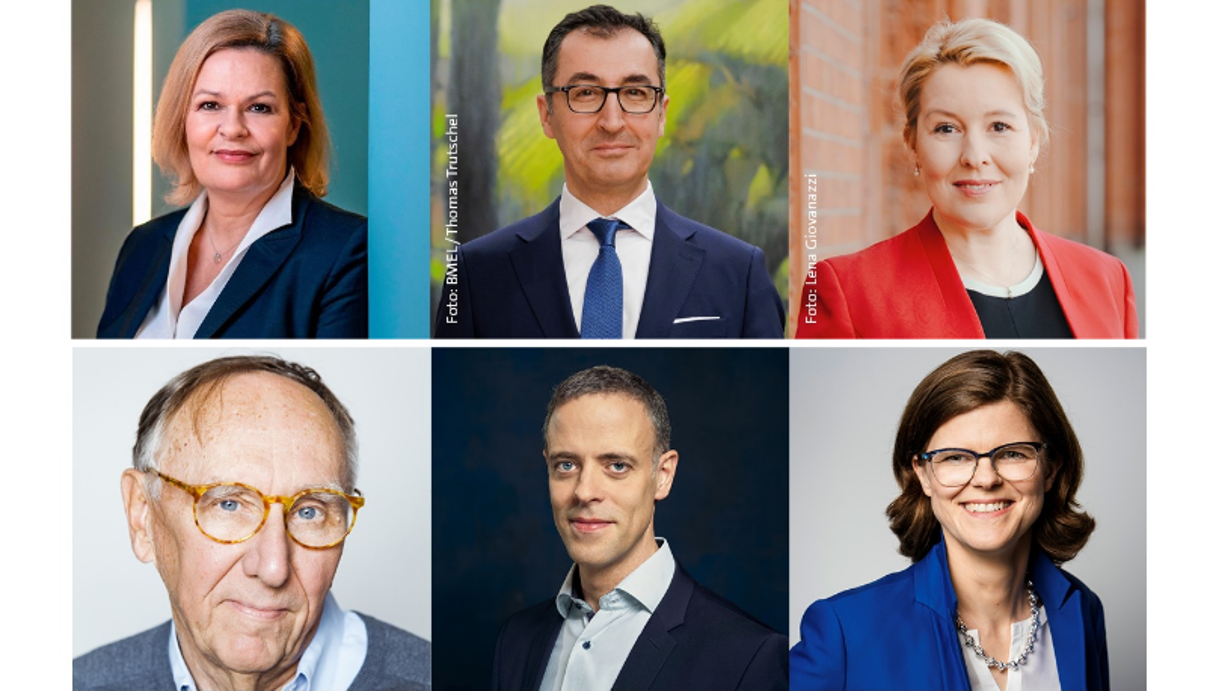 The Smart Country Convention will be opened by Federal Minister of the Interior and SCCON patron Nancy Faeser with a keynote speech. The topics will include the digital policy goals and measures of the Federal Ministry of the Interior until 2025, which are set out in the digital programme "Digital Germany - Sovereign. Secure. Citizen-centred". The digital programme is coordinated by Dr Markus Richter, Federal Commissioner for Information Technology and State Secretary in the Federal Ministry of the Interior, who is also expected to speak at the Smart Country Convention.
Another representative of the Federal Cabinet, Cem Özdemir, Federal Minister of Food and Agriculture, has announced his attendance. The Federal Ministry of Agriculture will be devoting itself to the development of rural areas at SCCON. The aim is to create equal living conditions in the city and in the countryside with the help of digitalisation, among other things.
Berlin's Governing Mayor Franziska Giffey will also give a keynote speech at SCCON 2022. Berlin has been in a transformation process to become a smart city for several years. Many projects are already being developed and implemented in this context. Behind this is the vision of shaping Berlin into an intelligently networked and resilient city.
Top-class speakers from the digital economy will be on stage
In addition to the political keynote speakers, numerous speakers from the digital economy have announced their attendance. For example, Jack Dangermond, founder and president of the software manufacturer Esri, which specialises in geoinformation systems, will be there. The software is used, for example, to display and analyse forest stands in Bavaria or the melting of glaciers in the Himalayas. In Bad Neuenahr-Ahrweiler, it was used after the flood disaster in July to record damage to roads and other parts of the infrastructure.
Digital infrastructure is the big topic of Dr Daniela Gerd tom Markotten, Director of Digitalisation and Technology at Deutsche Bahn AG. Digitalisation is seen as the central lever to make the railway more attractive for travellers and to achieve the climate targets. The industrial engineer will talk about how this can be achieved at the Bitkom Digital Mobility Conference at SCCON 2022.
Along the guiding themes of SCCON 2022 "Sovereignty. Sustainability. Resilience.", numerous renowned figures from politics and business, visionaries from the digital industry, regional industry experts and innovation drivers from the start-up scene will highlight the opportunities and facets of digitalisation in the public sector and present smart city solutions on the four stages and more than 10,000 m2 of exhibition space.
In addition, the German Association of German Cities, the German Association of Towns and Municipalities, the German County Association, the National E-Government Competence Centre and the Association of Municipal Companies will be represented as institutional partners at SCCON 2022.
Save your ticket to SCCON now!
Only a few more steps and you'll be there!