---
Page content
"Call for Speaker" selection is set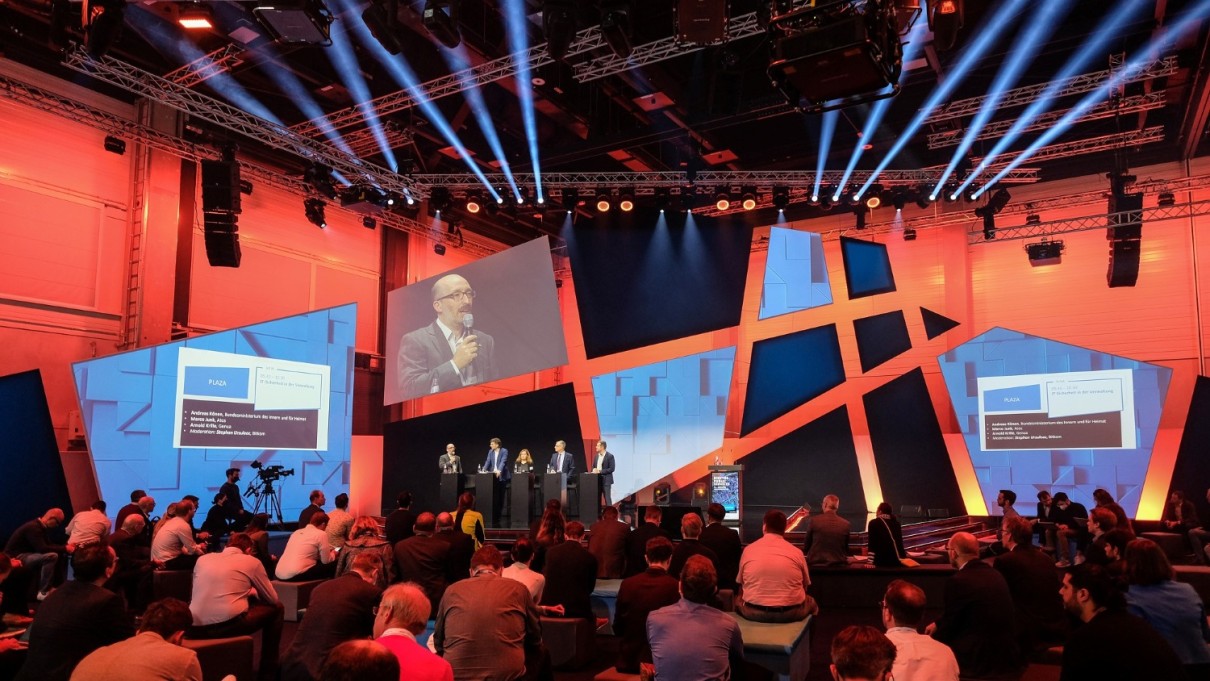 In March, the Call for Speaker for the Smart Country Convention was published and numerous municipalities, companies and universities applied with their innovative solutions and ideas. The first selection of topics to be presented on the SCCON stages has now been determined. Tom Albrecht, Head of Conference Program: "With our first Call for Speakers, we want to give innovative projects from the public sector even more space in our program. The fact that nearly 80 projects were submitted shows the enormous interest in this format. We look forward to the 18 selected projects from municipalities, counties and states being presented live at the Smart Country Convention."
City Hall for your pocket: the city of Tangerhütte will show how it offers all administrative services digitally with an intuitive modular system and how 20 percent of citizens already use the "City Hall for your pocket."
"Open Urban Dataplatform" for efficient urban planning: Aachen presents a centralized working data platform that brings together municipal asset data from supply and disposal lines and road infrastructure. A big step towards smart and efficient urban planning.
European Digital Dynamic Mapping (EDDY) - paving the way for automated driving: With EDDY, the Hamburg State Office for Roads, Bridges and Waterways is driving automated and connected driving forward in Europe. A standardized Urban Dynamic Map enables high-resolution and centrally managed city maps.
"Smart energy management" for sustainable building management: Rendsburg optimizes energy consumption using modern measurement and control technology and building management systems. The project is transferable to other users and promises cost-effective and environmentally friendly building management.
Open architecture for urban data platforms in Osnabrück: Osnabrück is working on an open architecture for urban data platforms to promote social, economic and ecological innovations. The project will be made available to all via OpenCoDE and is intended to enable more citizen participation.
Learning at work with a digital agent in Neckarsulm: HVF Ludwigsburg and the University of Zurich are testing how a Pedagogical Conversational Agent can simplify learning in the community.
Mein Elster 2.0 - User-friendly platform for tax returns: The Bavarian State Tax Office presents "Mein Elster 2.0" - a modern and simple platform for electronic communication with the tax office.
Smart.Region Salzlandkreis - Digital networking for livable communities: The Salzlandkreis district in Saxony-Anhalt wants to become a pioneer in the digital networking of administration and society by creating local networks between administration, business and civil society.
Werra-Meißner-Lab - Digital innovations and fun in the smart region: With the Werra-Meißner-Lab, the Werra-Meißner district makes digitization tangible and promotes the exchange of ideas between citizens, administration, science and companies. IoT sensors and virtual experiences show the potential of a smarter region.
DigitalAgentur Brandenburg - Support for digital transformation: The DigitalAgentur Brandenburg supports cities and municipalities in their digital transformation into sustainable and innovative communities.
InnoTecHH Fund - Artificial Intelligence for Hamburg's Administration: The InnoTecHH Fund of the Office for IT and Digitalization of the Hamburg Senate Chancellery supports AI projects to strengthen the innovative capacity of Hamburg's administration. Experiences and examples will be presented at SCCON.
Innovation Challenge of the Deutsche Bundesbank - Promotion of Startups: The Innovation Challenge of the Deutsche Bundesbank promotes innovations in the field of "ESG data" and involves young companies in order to simplify the award process.
Online Access Act (OZG) and the role of the BSI: The OZG aims to provide easy access to administrative services. The German Federal Office for Information Security supports implementation through IT security requirements.
Interoperability in the public health service: Ekom21 shows how a fast and legally secure exchange of medical data in the public health service (ÖGD) is possible through interoperability.
Digital transformation of administrative processes: The Physikalisch-Technische Bundesanstalt (PTB) offers metrological services digitally and shows how this makes administrative work more efficient.
Drones, AI and administration The Urban Tech Republic of the IT Service Center Berlin (ITDZ) in Berlin-Tegel is testing innovative applications with drones, AI and administration to develop smart solutions for the capital.
Artificial intelligence for administration: IU International University Berlin shows how AI is improving administrative work and shaping the future of local government.
Low-code solutions for administration: The Office for IT and Digitalization of the Senate Chancellery Hamburg presents the digital future potential of administration through low-code solutions such as MODUL-F.
These and many other exciting sessions await visitors to the Smart Country Convention 2023 from November 7 - 9 in Berlin. Free tickets are currently still available in the online ticket store.
Save your ticket to SCCON now!
Only a few more steps and you'll be there!