---
Page content
Google Air View measures air quality in Hamburg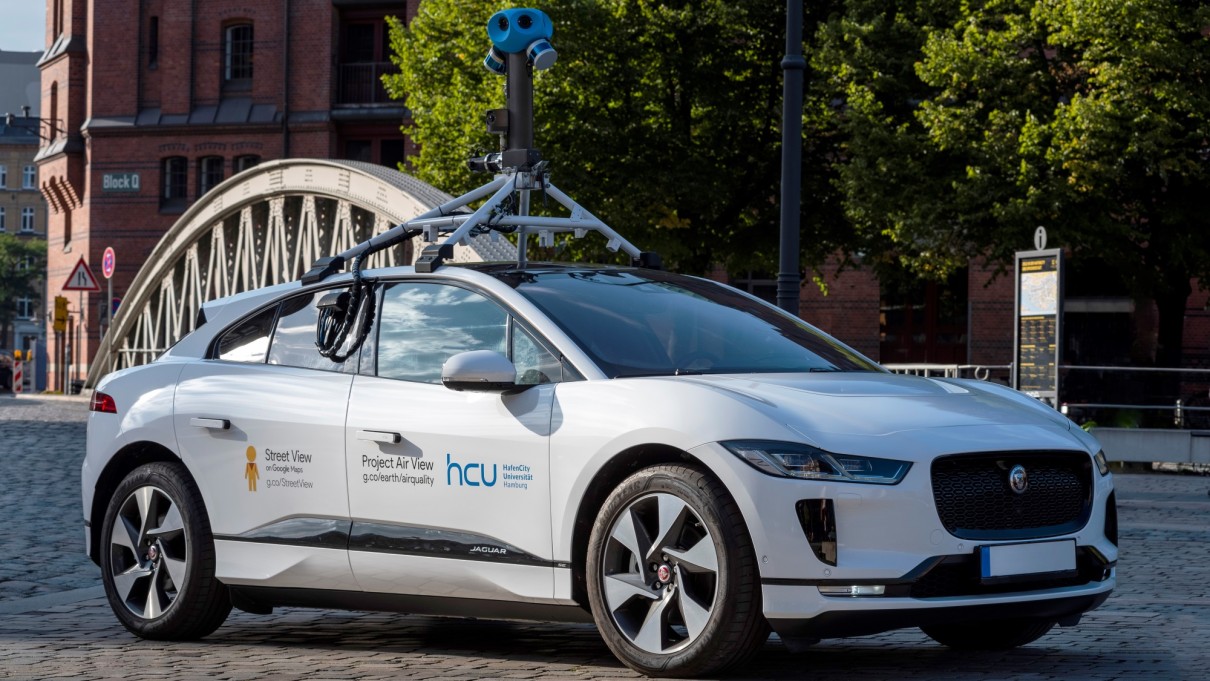 Google Street View is familiar to most - by now 15 years ago, the first time a car from Google drove through the streets in Germany to take pictures of streets, squares and landscapes so that we could get a picture from home without being on site. Almost two years ago, Google went one step further and sent the first e-car on the road in Hamburg to be able to check the air quality in countless places on a mobile basis. Equipped with state-of-the-art sensors, this electric car measured air quality in downtown Hamburg over a period of 15 months. This huge amount of data has been analyzed by the City Science Lab at HafenCity University Hamburg in order to gain additional insights into sustainable urban and traffic planning alongside the stationary measurements.
Project Air View: A look into the air
Equipped with a mobile sensor network, developed by climate tech company Aclima in collaboration with Google, the electric car has driven the streets of the Hanseatic city over and over again, collecting data on the concentration of six air pollutants: Nitrogen Monoxide (NO), Nitrogen Dioxide (NO2), Carbon Monoxide (CO), Carbon Dioxide (CO2), Ozone (O3) and Particulate Matter. Over 23 million data points from more than 2 million monitoring sites have been collected. The measurements now allow not only a general assessment of air quality, but also an accurate analysis at a hyperlocal level - that is, down to street segments as small as 50 meters.
A step into the future of air quality measurement
The data obtained represent a significant innovation in air quality research. In contrast to conventional stationary measurements, the data from the Project Air View car offer the possibility of analyzing air quality in a very confined space and linking it with other urban data, such as population or area data.
Hamburg as a pioneer
Hamburg is the first city in Germany where the Project Air View car has been in use. Since 2015, Google has already sent the car on the road in numerous other cities worldwide, such as Dublin or Copenhagen. HafenCity University Hamburg (HCU) and Google Germany worked together in the Hanseatic city to realize this groundbreaking research. The results of the measurements are now available for research, politics and civil society via various platforms.
The data will now be further analyzed by HCU and can be used in various areas such as environment, health, urban planning and citizen participation.
Project Air View Auto clearly shows how technology and science can go hand in hand to make our cities healthier and more livable. Hamburg has taken a pioneering role in this and is sending an important signal for a sustainable future.
Google Cloud will once again be represented as an exhibitor at the Smart Country Convention and present its own innovative projects and ideas.
Save your ticket to SCCON now!
Only a few more steps and you'll be there!