---
Page content
Ahaus on its way to becoming a Smart City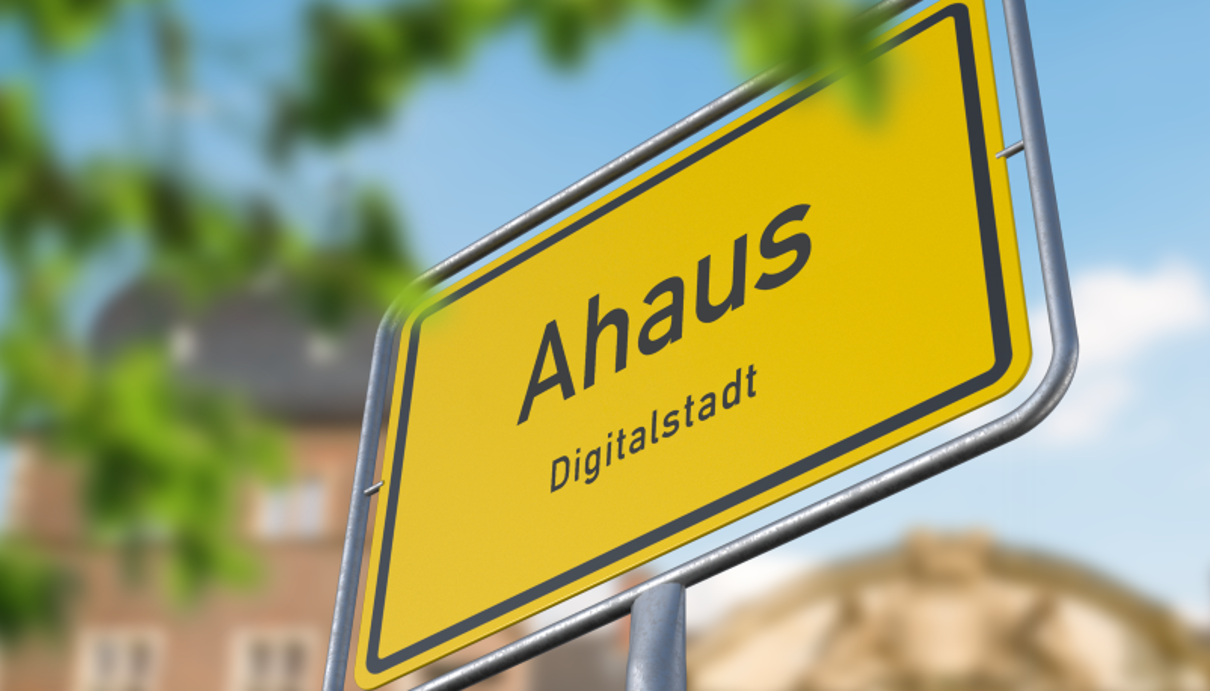 The city has the same problems as many other large and small towns in Germany: empty buildings, a deserted inner city, a lack of rural transport services and tourism and leisure attractions. In order to deal with these issues Ahaus is forging ahead with digitalisation. Smart applications that are not standalone solutions are making life in Ahaus even more appealing to both locals and tourists.
'Chayns' offers solutions to the problems of our times
On its way to becoming a smart city Ahaus has set up the platform chayns, where both locals and tourists can find out about the city's various services and attractions. Simply introducing an online presence has resulted in new restaurants setting up in the city with a population of 40,000. "People can mostly use their smartphones to order from restaurants and pay", says van Acken. "These services would not work with a conventional operation due to the lack of staff." Several restaurateurs are working together to supply a beer garden with dishes – a service that was possible because the guests order and pay online.
Ahaus has also found an online solution to the problem of its deserted inner city. It has set up a walk-in online shop, where 90 retailers display their goods. There are no shop assistants, so business can be conducted late in the evenings and on weekends, and customers can shop there anytime instead of going to Amazon or any other large online retailer.
Ahaus has a 24-hour supermarket which customers can access with their smartphone for their everyday shopping needs. No shop assistants are needed, the supermarket operates online only – stacking the shelves is the only task that still requires an employee. Additional information on the 24-hour supermarket in Ahaus can be found here.
Electric bikes and cars, playground equipment and even a movie theatre are among the things that people in Ahaus can simply book using a smartphone app. Travellers check in online at their hotels – without a receptionist in sight.
"These services and many others only exist because they can be accessed solely online. They would not be available otherwise, being too costly or because of a lack of staff. Users need only register once, after which they always have access via smartphone", says van Acken.
Smart cities and smart citizens?
"For the people of Ahaus the smart city has long become a reality and one that is fully accepted", says van Acken. He often gets enquiries whether this or that can be included on the platform. As in every other smart city it is important to communicate. Particularly where the elderly are concerned, Ahaus works with local agencies who have made it their task to support them.
Dieter van Acken has five tips for those embarking on the transition to a smart city:
Establish a master ID.
Think vertically and deal with local problems first. Simply copying others is not a solution.
As far as possible take the project into your own hands.
Break down existing services. Expand an existing analogue service online and convert it step by step.
Address people's anxieties. Digitalisation is not an end in itself. The main thing is that it benefits people.
Even if in many respects Ahaus is well on the way to becoming a smart city, the project is still ongoing. "It is not a project, but work in progress", says van Acken.
For many people Ahaus is a pioneer of the smart city concept. Various tours are on offer to enable as many other cities as possible to learn from Ahaus, about the smart city, smart restaurant trade, online retailers and online companies. Full details can be found here.
Save your ticket to SCCON now!
Only a few more steps and you'll be there!