---
Page content
Osnabrück – on the way to becoming a smart city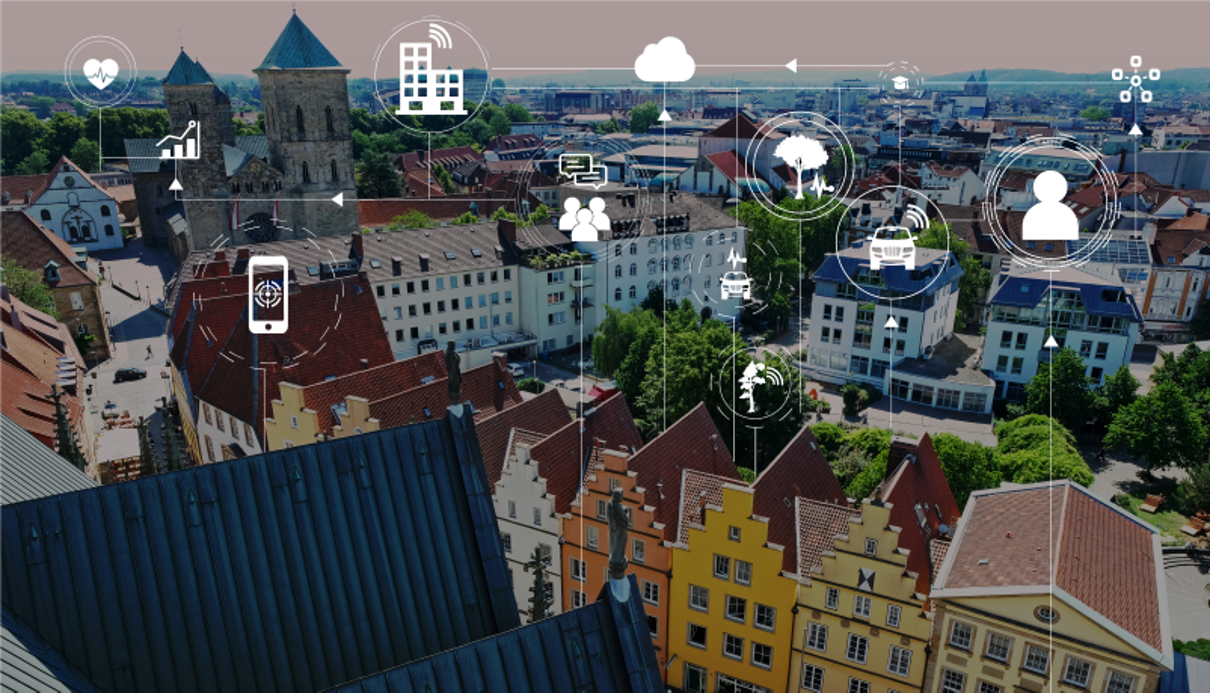 More and more cities in Germany are set to become smart cities. In Osnabrück this is for practical reasons – like many other municipalities it has to find answers to many pressing issues regarding the future. In addition to climate change, they include social inequality, a scarcity of energy resources, as well as sudden crises and unforeseeable events. These are events Osnabrück wants to prepare for now and in the future.
The city sees current strategies and instruments as no longer being adequate, and in becoming a smart city Osnabrück wants to explore new ways and methods. "Digital technologies are paving the way for many new options here", was how Anna-Lena Meiners, team leader, Smart City Osnabrück, put it in an interview.
For many people in Osnabrück digitalisation has become a firm part of their everyday lives. "In many instances it helps to make life and living together easier, with better barrier-free access. Therefore, there is pressure from within society to actively drive forward digitalisation in all areas that concern the city. The same applies to industry, public administration and science which urgently need a digitalised infrastructure to be able to function", said Meiners. The Smart City concept is also laid down in the city's strategic goals.
In the recent Smart City Index compiled by Bitkom, Osnabrück came fifteenth among cities with a population of more than 100,000. "In Osnabrück, local technology innovators in industry, science and research are providing a big impetus for the transition to a smart city. The combination in particular of new startups, established local companies, intense research at universities and strong investors encourages innovation", Meiners said.
The greater difficulty lies in making the smart city concept attractive to the wider public. Meiners says that on the one side there are many actors who are already closely involved with digital topics. "For this group the reasons are clear and they are generally very supportive of the idea." On the other hand there are at least just as many for whom smart cities mean little to nothing at all. This group often displayed anxiety and hesitancy, which had to be taken seriously, Meiners said.
Osnabrück launched an interactive portal in mid-June to acquaint the wider public with the smart city concept. Its aim is to ask Osnabrück's citizens their opinions on all kinds of projects in the future. If for example a new playground is to be built, then using the portal local residents can have a say on what it should look like, how it should be equipped, and the planned costs – the idea being to make the city's activities as transparent as possible and involve citizens in the process.
In addition to the new interactive portal Osnabrück is focusing on setting up an urban data platform, which in the future aims to collect and link information from different sources, including geo, mobility and research data. "That will make setting up and making use of expertise and options for taking action locally even easier ", Meiners said.
In order to assist the elderly and those who until now have had little or no contact with digital technology, Osnabrück has set up the PIKSL laboratory. This is where anyone can try out new media and get help with specific problems regarding digital technology. The PIKSL laboratory offers the citizens of Osnabrück advice and practical tips on everything from first steps on the internet to fully designing media products.
In mid-2028 the federal programme supporting Osnabrück to become a smart city will end. According to Meiners, the city will by no means be "finished". "A smart city that relies on technology to respond to the new and changing needs of its citizens will always be a work in progress. That is why we want to make people naturally familiar with the smart city concept and its accompanying ideas and instruments, so that using technology becomes an ever-present option for solving future challenges."
In 2003 Osnabrück was declared Germany's happiest city. Perhaps becoming a smart city will help to make and keep its citizens especially happy.
Save your ticket to SCCON now!
Only a few more steps and you'll be there!