---
Page content
Kaiserslautern on the way to becoming a Smart City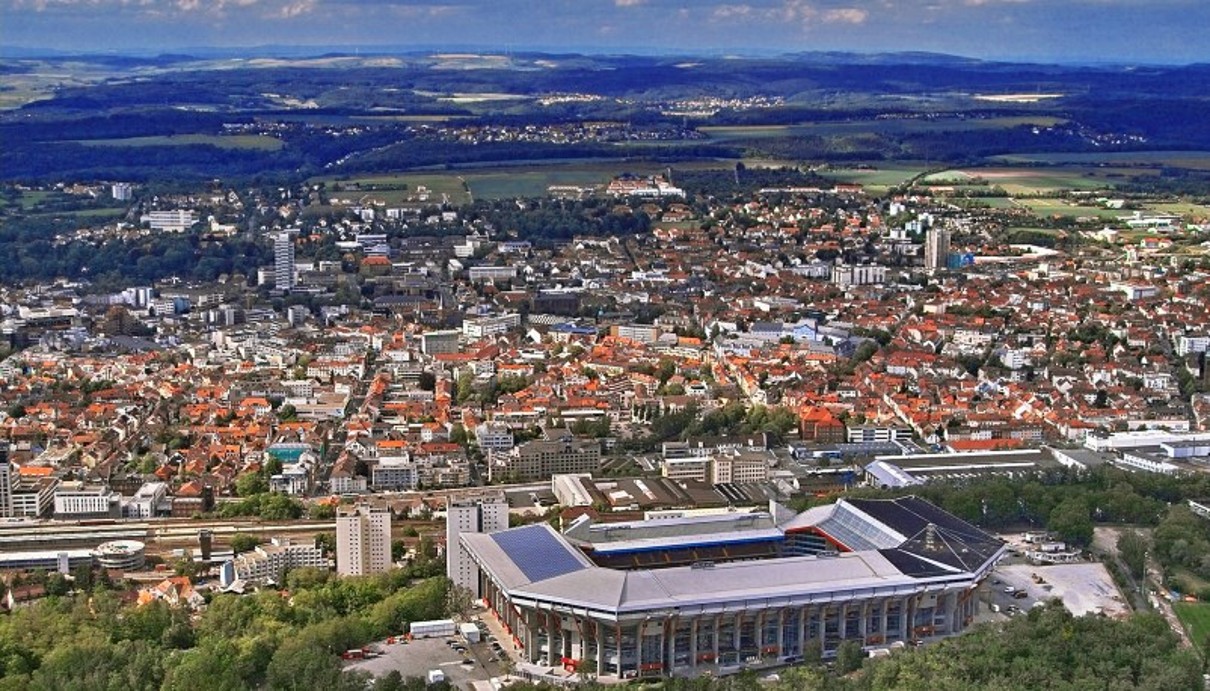 Sabine Martin is convinced those are ideal prerequisites for a smart city. She represents the project entitled Kaiserslautern – herzlich digital. It is the people of Kaiserslautern who should be centre stage. Technology is not an end in itself, says Martin. "It should accelerate processes, help with tasks and reflect the reality of people's lives here."
In recent years a number of operators have formed a partnership: in 2020 the Digitalisation Department was formed because "in our opinion a smart city cannot simply be forced upon existing local government staff from above. It necessarily requires additional staff to make serious progress with the idea." It was also important to have the support of the city's decision-makers – without whose commitment it could not work.
The department is supported by a city-run subsidiary, KL.digital GmbH. "In terms of speed, flexibility and the ability to act it has given an enormous boost to the digitalisation process in Kaiserslautern." Martin is sure that "without the space a limited company can give, Kaiserslautern would not have been able to move forward as rapidly and successfully as it has." To ensure that becoming a smart city is also underpinned by science the city's team works closely with the Smart City Living Lab at the German Research Centre for Artificial Intelligence.
From technology to implementation
In the initial phase of creating a welcoming online city, the focus in Kaiserslautern was on establishing a sound technological basis. In the second development phase which Kaiserslautern has now reached the objective is to create a public awareness of digitalisation, says Martin. "We want to present the city's authorities with tangible results from the projects. One of our next moves will be to communicate interim results." The first round of projects recently undertaken in Kaiserslautern is impressive:
Smart City Infrastructure is developing a secure, efficient and low-maintenance fibre optic infrastructure which various institutions around the city can access. Sensors connected to this system collect a wide range of data, including on traffic, noise levels, temperature and air quality in the city. All this information is evaluated, visualised and in the future will be openly available to the people of Kaiserslautern and elsewhere.
• Another smart city project is influencing the city's development goals. Thus the 'herzlich digital' team is working on a navigation system for the visually impaired and blind and promoting inclusion. The aim is to provide technical aids to enable this group of persons to navigate the inner city more easily. The city is currently collecting information on the experiences and demands of visually impaired persons in order to tailor the technology to their needs.
• As in many other smart cities, Kaiserslautern wants people to participate and become involved. Via the platform KLMitWirkung they are being invited to exchange ideas and take part in the discussion. Currently, the main topics are a cycle path between the green spaces Stadtpark and Volkspark, a floodwater and stormwater prevention concept and a "testing box" in the inner city of Kaiserslautern.
A smart city for everyone
All these projects show the actual steps being taken in order to realise a smart city and digitalisation and how it enriches the lives of the people of Kaiserslautern. Online participation is part of the overall concept of the 'herzlich digital' project, says Martin: "We want to be amenable to every audience and available at all times, and that is the message we are putting across. Only by communicating directly with the elderly can we find out what it takes, and about the anxieties and initial difficulties that exist, and how we can specifically help to dispel them. We also have specific projects dealing with this topic. Digitale Hilfe is a project that works in partnership with the city and the 'herzlich digital' project, 'Gemeindeschwester plus', the three agencies in the city's various districts, a senior citizens committee and the civilian population. Our experience in this respect has been very positive and in certain cases quite emotional. In the end, a number of employees even decided to qualify as digital ambassadors of Rhineland-Palatinate and to support the project and the elderly voluntarily outside their working hours."
Is there an end in sight?
For Kaiserslautern, becoming a smart city does not end. "What a smart city is not actually defined, instead it continues to develop technologically and through public discourse", says Martin. "Sending a fax used to be smart once, but it certainly is not today. We regard the smart city project as a narrative and ongoing process." The aim is for Kaiserslautern to remain a city worth liking and living in in the future – together with the city's authorities and by making use of online options.
Save your ticket to SCCON now!
Only a few more steps and you'll be there!